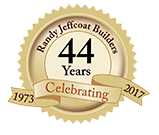 Randy Jeffcoat Builders - Let's Build Your Dream Together
Custom Home Builders, House Plans & Idea Homes
When you are ready for a custom home, we can help you bring your dream home to life. As the leading custom home builder in Hilton Head, Randy Jeffcoat Builders is a talented team of contractors with over 40 years of experience, and we're eager to show you what we can do for you.
Our work includes an astounding collection of homes that have won countless awards and hundreds of satisfied testimonials. A glance through some of these strong recommendations makes it clear why we stand by our motto, "Don't waste time getting quotes from the rest; settle only for the best."
Perfectionists On Staff Means An Amazing Outcome For You
Headed by Randy Jeffcoat himself, our custom home builders firm includes a full suite of perfectionists that include artists, designers, architects, and project managers. We are able to take your grand vision and build a house plan based on your ideas that employs the finest building know-how in the industry and the top local craftsmen. When we put the keys in your hands, you know you are getting a custom home that reflects your style and perfectly complements the local communities here in Hilton Head and Bluffton.
Work With The Best Custom Homebuilder In Hilton Head
Our custom home builders portfolio includes homes from scratch, remodels, additions, and much more that capture the dreams of our residential and commercial clients. When you are looking for a custom home built by an innovative, custom home builder in Hilton Head, contact Randy Jeffcoat Builders at (843) 837-5133.
---
---
Client Testimonials
"It is with great appreciation that Kim and I recount our homebuilding experience with you. Your team's professionalism did a wonderful job representing your company and attending to our specific needs. Of course, Brenda's suggestions for our interior as well as exterior selections added the warmth and elegance that we were striving to achieve. We are proud to show our home to our family and friends and always talk about our positive and successful experience with your company." - Mr. & Mrs. Shimada - Palmetto Dunes Plantation.
"Mary Sue & I would like to thank you for the time you devoted to our project. Brenda and Randy you both are just super people, honest in every way and we know your quality is one of the best around. Again, we cannot thank you enough for such a beautiful home." - Mr. & Mrs. Cervini - Windmill Harbour
"Doug and I are loving our beautiful home! Once again, it was a pleasure to work with you Randy Jeffcoat Builders. We appreciate your thoroughness and attention to detail and high standards. When we build our next house we will insist on Randy Jeffcoat Builders!" - Mr. and Mrs. West - Moss Creek Plantation .
"We have received numerous compliments on our home from our neighbors for the beauty and quality of our home, as well as the expeditious manner in the way it was constructed. We knew that your company had our best interest in mind and would do whatever possible to make us happy. The chairman of the Design Review Commission tells me whenever he sees us that Randy Jeffcoat Builders was one of the most cooperative contractors to build on Ribaut Island. Would we recommend Randy Jeffcoat Builders and have them build us another home? Yes we would!" - Mr. & Mrs. Schlader - Ribuat Island - Hilton Head Plantation